ART DIRECTOR: BILL USHER
In 2007, the Art Gallery of Golden commissioned the exhibit Adventurers & Settlers depicting the profiles of 20 families whose ancestors arrived in Golden before 1920 and whose descendants still walk the streets of Golden today. As my Introduction to the exhibit and subsequent book noted: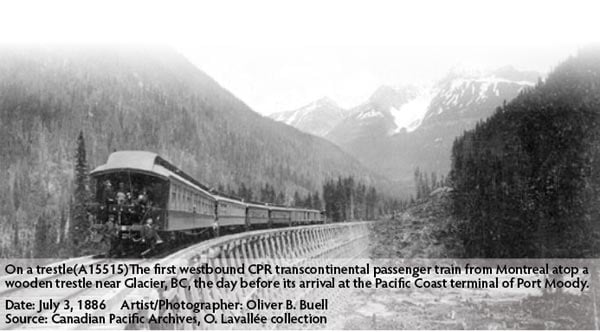 "Going back more than 100 years, adventurers and settlers arrived in Golden from around the world, traveling on foot, by pack train, by steamboat down the Columbia River, or on the Canadian Pacific Railway. They were attracted by the opportunity of work, the vast forests, and a wide fertile valley in which they could farm and hunt; a place for quick pickings or a family to settle and grow." ¹
It's fair to say that this new exhibit is a natural follow-up. The adventurers who found their way to Golden and settled to raise a family were homeseekers, exactly the kind of people that the Canadian Pacific (CP) was reaching out to all around the world in the late 1800s and the 1900s.

"When the Canadian Pacific Railway received large grants of land as a condition of building the transcontinental line, it became the largest owner of real estate in the Canadian North-West. As a result, management focussed on immigration and colonization as a way to increase the company's revenue base." ²
It all started with the first CPR transcontinental passenger train passing through Golden on July 3, 1886 on it's way to the terminus at Port Moody on July 4. The rail tracks were laid alongside the Kicking Horse River as it drained from the continental divide into the Columbia River. Over these past 125 years, the settlement here grew on both sides of the Kicking Horse River and the CPR has played a crucial role in the development and life of Golden ever since.
"Because it distributed an enormous quantity of literature promoting Canada as a settlers' paradise and an extraordinary tourist destination, the CPR greatly influenced how the country was perceived by the rest of the world." ³
Tourism became popular in Golden in the early 1900s with the hiring of Swiss guides by the CPR. The lure of fresh, unconquered peaks and the prospect of viewing and experiencing untouched wilderness enticed well-to-do Europeans and North Americans to fill CPR passenger cars and local hotel rooms.
Fast forward 100 years. With the growing popularity of Kicking Horse Mountain Resort and hundreds of local tourism providers, Golden is again being marketed to the world as an adventure playground. The secret is out and tourists from around the world are flocking to Golden to experience what Goldenites enjoy out our front door every day of the year. As a bonus for us, many world travellers soon find "home" in Golden and transform into year-round settlers. A new twist on the homeseekers of the 1900s!
We know full well that a great place to live is a great place to visit, so one of Kicking Horse Culture's promises to our community is to to use cultural activity as a catalyst to build upon and enhance our local traditions and further develop an authentic sense of place and maintain that balance where the community life that we hold dear is not destroyed in the pursuit of selling it as a commodity.
With this exhibit, we took an art galleries' perspective and had fun playing with the inherent ironies. Like the old CP posters, our posters are a commercial commission to create a series of works that beautifully portray some of the aspects that we locals know and love. We wanted to honour the past by depicting the present through the lens of CP's 1900s romanticism. We hope that visitors to Golden will be charmed by what we've created but, more importantly, we pray that Goldenites will recognize them to be true.
We only had the resources to create an initial set of twelve posters but, fully knowing that there are so many more to do, we could easily create another twelve right away. Stay tuned.
In closing, I would like to recognize the dozens of artists who were the original creators of the CP posters, the Canadian Pacific archives, and to Mark Choko and David Jones who created the beautiful book Posters of the Canadian Pacific.
I'd especially like to honour Peter Ewart who wrote about getting his first poster commission with the Canadian Pacific in 1940: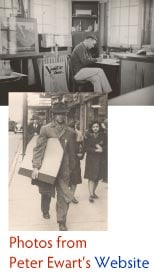 "When I started out in the art world, I had the intoxicating feeling that I was going to 'make it' right away. After all, I had a great portfolio, I was fresh from art school in New York City, and I was sure I had something the art world was waiting for. Ah, youth!
Alas, such was not the case. As I went from agency to agency it was, 'Nice work. Leave your card and we'll call you.' The phone never rang. I kept making the rounds. And at the end of a grey November day, I decided to call on the CPR at Windsor Station in Montreal.
Ernie Scroggie, the assistant director of the Exhibits Branch, looked through my portfolio. Complete silence. I waited for the now familiar "Leave your card," but instead he called in Ed Noltie, the director, and the two of them examined my work. They turned to me and Scroggie said, 'We're looking for a new ski poster design, and I think your style may be what we're after.' That day led to my first commission. the poster was printed, and I received my first payment for a piece of artwork: fifty dollars."  Peter Ewart, Surrey, B.C., April 9, 1988⁴
In the 1900s, Canadian Pacific created posters that promoted the dream of the Canadian west to tourists and homeseekers from around the world. While honouring these classic posters, we have tried to create a series of posters that depict this place–Golden–that we locals are proud to call home.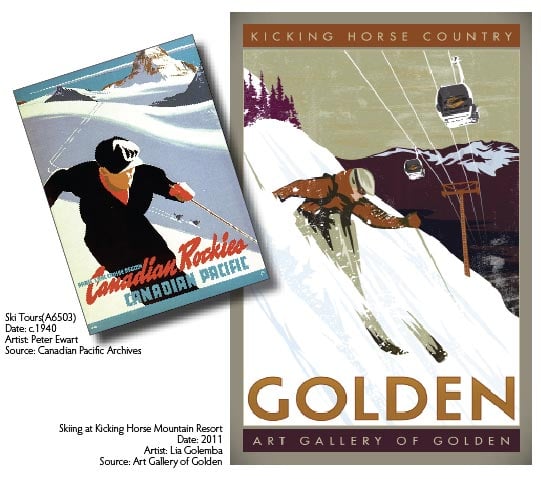 ¹ Palumbo, Pitcher, Usher. Adventurers & Settlers (Kicking Horse Culture 2007) p. 6
² Choko, Jones. Posters of the Canadian Pacific (Firefly Books 2004) p. 29
³ Choko, Jones. Hypatia Sans Pro (Firefly Books 2004) p. 24
⁴ Choko, Jones. Posters of the Canadian Pacific (Firefly Books 2004) p. 9
ARTIST: LIA GOLEMBA
Originally a Kelowna resident, I moved to Calgary to attend the Alberta College of Art + Design (ACAD) where I earned my Bachelor of Design in 2001. Post graduation, I freelanced for a number of years as an illustrator and designer until I founded Pink Spot Studios in 2007.
As a boutique sized studio I only take on a few projects at a time and spend time getting to know my client's needs. Each resulting commercial art piece is completely individual and customized.
"Golden. We call this home." was another unique opportunity. I thoroughly enjoyed immersing myself in Kicking Horse "culture" and working with Bill Usher was a real honour; his excitement and passion for Golden and the exhibit was contagious.
Over the many months we worked on this project, I really got a feel for the unique life that Golden offers and fully came to appreciate the vision of keeping authentic values close while finding meaningful ways to depict this "culture" to the world.
As a starting premise and beacon through the project were the Canadian Pacific posters. Created by artists for commercial purposes, they are now truly being celebrated for their individual artistry and the role they played in selling the dream of the Canadian west. Peter Ewart's incredible posters for CPR were of particular inspiration, as was his artistic biography.
Many of the original CP posters were screen prints or lithographs, fairly utilitarian processes of making multiple prints prior to them being adopted later as art forms. Rather than recreate older technologies we looked to modern creative digital practices reflective of Golden's progressive nature. This created some nice resonances: using current technology to represent contemporary activity in a style that evokes nostalgia for a bygone era.
Screen prints of the time would have, by today's computer standards, comparatively limited colour selections. Litho offers more subtlety in colour and detail and allows for a larger range of colour reproduction. The style that I chose to work in is a bit of a hybrid of the two. I worked with bold shapes, simplified colour and iconic images, like the screen prints but added layers of more subtle details, textures and colours similar to the look of the lithographs. Like lithography, the final archival prints for this series will also use a four colour offset press.
In their time, a time when the world was more text based than visual, the CP posters sold a rosy view of a distant land . The most challenging part of the process was staying true to rendering what is authentic and recognizable to Goldenites.
From the beginning, Bill had a clear vision to the scope and depth of the project; subjects morphed and grew as we bounced ideas off one another and got feedback from locals who had specific knowledge of the places we wanted to portray. I immersed myself in reference materials and created boards of photos, stories, notes and sketches. Then, I created several digital composites using Adobe Illustrator software on my Mac.
My digital process has become more streamlined thanks to the Wacom tablet. With a stylus, I can hand-draw like a pencil on paper. It feels almost natural now, although it does lack a certain tactile experience. My range of movements is limited to a smaller area therefore limiting the expressiveness of freestyle drawing. I can select from an assortment 'brushes' with varied line weights to help compensate for the more limited mark making. Working digitally allows me to make quicker revisions and manipulate subtle details such as colour and texture as compared to my more personal pieces where I work mainly with found objects, paint and resins, which are not always as forgiving.
When I'm not creating commercial work for my clients, I'm spending time with my brand new baby boy Jett as well as my husband Clayton and studio mascot Thug "the pug" Golemba. We are pretty low-key lately but enjoy traveling, playing outside, as well as good food, family/friends and wine. I am also always working on several personal art pieces which tend to be very process oriented and develop, over months and sometimes years.
[credits]
Archival prints printed by Bill Pitcher at Golden Photography
Archival prints framed by Marie Newgard at Selkirk Glass
Many thanks to locals who provided us with photo images to put us in "the place": Jim Dorst; Rudi Gertsch; Troy Hudson; Roger Laurilla; Sanne van der Ros; Bill Usher.